EAST RUTHERFORD, N.J. — A furious Rex Ryan lashed into the New York Jets after Sunday's 34-0 loss to the San Francisco 49ers and opened his news conference with an apology minutes later.
"I apologize for my language because I was going to say we got our butt kicked, but we got our a– kicked," Ryan said. "There's no two ways, ins or outs about it."
Ryan was so angry he told the players to go home for two days of soul searching, giving them off Monday and Tuesday. The Jets (2-2) have a long week because they don't play until next Monday night, a home game against the undefeated Houston Texans.
"It's unacceptable," Ryan said. "We've got to look at it. It starts with the coaches. The players aren't going to be in Monday or Tuesday. They have to dig deep and look down at themselves. As coaches, we need to look at what we're doing."
Ryan had a right to be upset, as the Jets suffered their third-largest shutout loss at home in franchise history, the worst since a 37-0 loss to the Buffalo Bills in 1989. It wasn't the most lopsided loss of the Ryan era; the Jets lost to the New England Patriots, 45-3, in 2010, but that was on the road.
This latest debacle came in front of the Jets' home fans, not that there were many left in the fourth quarter. The mostly empty stadium was filled 49ers fans at the end of the game, chanting, "Let's go Niners!"
"It's your worst nightmare," Jets defensive tackle Mike DeVito said.
Ryan also apologized to the fans.
"Our fans deserve a lot better than this," he said. "I know right now we're not even close to being one of the better teams in this league, not even close."
Ryan was galled by the defensive performance. The Jets, who began the week ranked 28th in run defense, allowed 245 yards on the ground — the most in 52 games under Ryan. Remarkably, nine different 49ers carried the ball, averaging 5.6 yards per carry.
"I've never given up so many rushing yards in my life," Ryan said. "I can't remember getting beat the way we got beat. I don't think that's ever happened."
Ryan ripped the offense, the defense and the special teams, which allowed a blocked punt on a "one-man rush," he said.
Ryan acknowledged that the Jets need "better play at quarterback," but maintained that he is not considering a switch from Mark Sanchez, who struggled for a third straight week, to Tim Tebow.
"I'm not ready to make a quarterback change," he said.
A few longtime Jets said it was the angriest they had seen Ryan in a long time. Wide receiver Chaz Schilens, a newcomer, said Ryan was "disappointed" and "angry."
"Dudes were angry," Schilens said. "It doesn't even have to be Rex. It's just a really bad loss."
After a dismal performance from Mark Sanchez at home in Week 4 versus the San Francisco 49ers, the New York Jets need to make a change under center. On the day, Sanchez went 13-of-29 for just 103 yards and one interception. He was sacked three times, and Gang Green totaled only 145 yards on top of being shut out.
Now, yes, this was the Niners defense, but after Week 3 New York and San Francisco had every reason to be polar opposites in terms of confidence.
The 49ers fell to the Minnesota Vikings, and the Jets got a big road win over the Miami Dolphins. Unfortunately for Jets fans the momentum didn't carry over, and the offense was completely dominated throughout by San Francisco.
To that end, it couldn't hurt to give Tebow a shot. Therefore, let's see why Tebowmania needs an opportunity in America's largest market.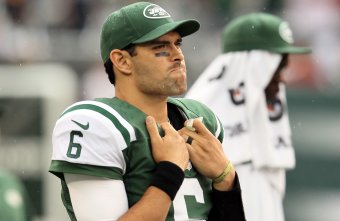 Elsa/Getty Images
Sanchez Is Regressing
Sanchez has been on a decline since Week 1, when he went 19-of-27 for 266 yards and three touchdowns against the Buffalo Bills.
Well, Sanchez hasn't come close to that effectiveness in the past three games.
Going 10-of-27 against the Pittsburgh Steelers and 21-of-45 against the Dolphins, those games combine for a 43 percent completion percentage, and this week didn't help. And although Sanchez hasn't been sacked too often, his accuracy and decision-making have affected New York's offense.
The Jets simply need a playmaker at the helm, and Sanchez continues to slide after Week 4.
Readers Comments